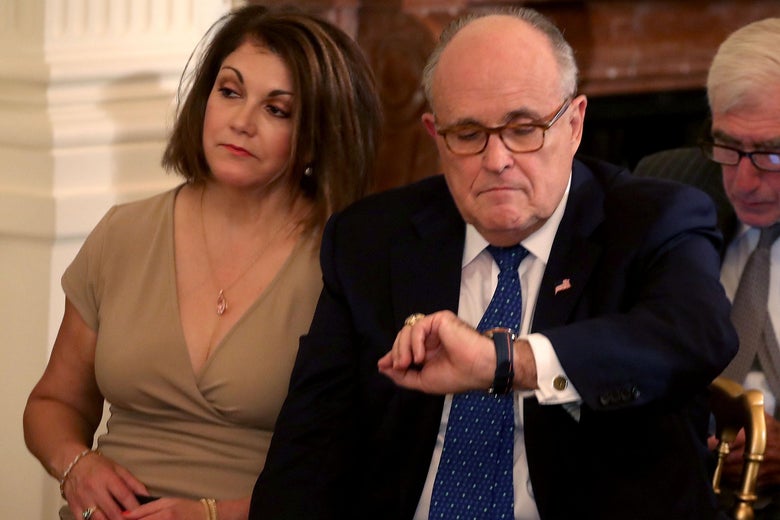 Michael Cohen, President Donald Trump's former personal attorney and fixer, recorded 183 "unique conversations," according to Rudy Giuliani. Or at least that's the number of recordings that investigators seized from Cohen's office, according to the president's lawyer. But Giuliani insisted to CBS that Trump can only be heard in one of the recordings which is the one that Cohen leaked to the media last week regarding payment to Karen McDougal, the former Playboy model who says she had an affair with the now president. If true, that would seem to throw cold water on the idea that Cohen has more directly incriminating evidence against Trump.
Even though Trump himself can only be heard on one of the recordings, "There are 12 others, maybe 11 or 12 others out of the 183, in which the president is discussed at any length by Cohen, mostly with reporters," Giuliani said. The president's lawyer says he doesn't know what's in the recordings that don't include or mention Trump. "There are then an untold number of other tapes that have no relation to us. Meaning President Trump." In the interview, Giuliani said he wants the public to hear the recordings because they vindicate Trump. "These are tapes I want you to read. I want you to hear them," he said.
Giuliani spoke of the recordings as he continued his effort to discredit Cohen, calling him a "scoundrel" and "total liar," while also raising the possibility that he edited the tapes. "The man is a pathological manipulator, liar. I didn't know that," Giuliani said on Fox, explaining why he had previously defended Cohen. "I knew nothing bad about Michael Cohen until all of this started to happen in the last couple weeks."
If you think Slate's work matters, become a Slate Plus member. You'll get exclusive members-only content and a suite of great benefits—and you'll help secure Slate's future.