A television assembly plant in small town South Carolina could prove the graveyard of ambition for Republicans in November's midterm elections.
This week Element Electronics warned that it might be forced to close its factory in Winnsboro and layoff 126 people because of TV parts affected by Donald Trump's tariffs. Republican strategists fear there could be many more casualties in the president's trade war with China.
It is the last thing they need going into the polls in November, where Democrats aim to pick up 23 seats to regain control of the House of Representatives for the first time in eight years. Historically, the party that controls the White House typically finds the pendulum swinging the other way. This year, a uniquely polarising president appears to be firing up Democrats eager to curb his power.
The surge was on display again this week in a special election for a House seat in a reliably conservative district in Ohio that Trump won by more than 11 percentage points and that Republicans have held since 1982. Republican Troy Balderson leads Democrat Danny O'Connor by only about 1,700 votes, or less than 1%, with more than 8,000 provisional and absentee ballots still to be counted. There are dozens of seats currently held by Republicans that have bigger Democratic populations than the Ohio district.
"I think it's a huge red flag warning to the GOP [Grand Old Party] that November is going to be more difficult than their current rhetoric is stating," said Michael Steele, former chairman of the Republican National Committee. "You have perhaps one of the top five most conservative districts in the United States and the Democrats are able to basically bring it to a draw almost.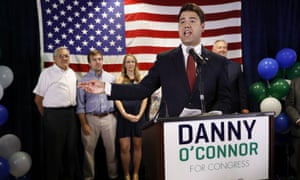 "If that happens in Ohio 12, what's going to happen in less red districts around the country? You're talking about a total of some 60 districts that look like that, many of which were won by Hillary Clinton in 2016."
Complaining bitterly about America's deficits, Trump campaigned on a promise to renegotiate trade deals and establish a level playing field. He followed by breaking from Republican free market orthodoxy and imposing billions of dollars worth of tariffs on steel, aluminium and other imports from China, the European Union, Mexico and Canada. Negative consequences include a fall off in direct investment, while retaliatory tariffs from those countries make it more difficult for US farmers and manufacturers to sell abroad.
The effects are already being felt on the ground. In June CNN reported that about 21,000 companies in the US had filed for tariff exclusions, claiming the policy has caused job losses and makes them at risk of closing down. Pork producers and whisky distillers have reportedly been hurt, while the tariffs contributed to $1bn higher costs for General Motors. Harley Davidson announced that it would relocate some of its production out of the US because of the trade war with the European Union, earning a rebuke from the president.
The biggest losers are likely to be Trump's biggest supporters. Steele said: "This is a direct assault on his base. Members of Congress who represent those areas know this. Certainly you're now beginning to hear from many of those communities – tepidly, they're trying to walk that fine line, they don't want to slam the president – but at the same time they're sitting there saying, 'Hey, we're beginning to feel this.' I don't see how this ends well for a party that is trying to hold on to a 23-seat majority when you've got well over 60 seats that are in play."
'You'd want Donald Trump as far away as possible'
Another example is Mid Continent Nail, which produces half the nails made in the US at its factory in Poplar Bluff, Missouri, a state won by Trump in 2016. After Trump imposed new tariffs on steel imports at the start of June, its sales were halved, resulting in more than a hundred job losses. The Democratic Senator Claire McCaskill told a press conference: "There is absolutely no reason that they should be forced to lay people off or to go out of business because of tariffs that have been applied in a way that are gonna do more damage than they're gonna do good … This is a three alarm fire for jobs in our state."
Republicans had been expected to trumpet strong economic growth, low unemployment and $1.5tn tax cuts in their election campaigns but find other dangers looming. Trump promised to "drain the swamp" but this week Chris Collins, the first Congressman to endorse him, was arrested and indicted on charges of using his insider knowledge to help his family avoid losing money in the stock market. Collins denies the allegations.
Nancy Pelosi, the Democratic leader in the House, commented: "The charges against congressman Collins show the rampant culture of corruption and self-enrichment among Republicans in Washington today."
The rolling back of Obamacare protections, leading to higher health care premiums, could also bite at just the wrong time. Steele said: "So how does the party go out and make the case that, 'Gee, we gave you a tax cut,' and the voters sit there going, 'Well, where is it, because I don't have a job now? Or my employer has cut back on these types of benefits at the company or, worse yet, I just got a 35% increase in healthcare costs but I only had a 10% increase from the tax cut.'"
He added: "I think a lot of people are going to be stuck doing the math between September and November and the numbers are not going to add up for the Republican party because of the types of policies subsequent to the tax cut that the president has put in place."
The Ohio special election reflected others over the past year, including upsets by the Democrat Doug Jones over Roy Moore for an Alabama Senate seat last December and the Democrat Conor Lamb in a Pennsylvania congressional race in March. In those races, rural voters favored Trump-backed candidates but their turnout was no match for turnout in the suburbs, where Democrats expanded on margins won by Hillary Clinton in 2016.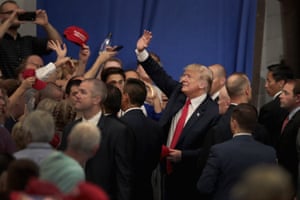 Bill Galston, a former deputy assistant to Bill Clinton now based at the Brookings Institution thinktank in Washington, said: "If you're a Republican whose district includes a significant suburban component, you'd want Donald Trump to stay as far away as possible. The Trump brand is turning into pure poison in the suburbs.
"Places where incumbents are in trouble tend to have a suburban chunk. Ohio 12 [the special election] is a perfect example. Evidence suggests that rural turnout in Ohio 12 was moderate but the suburban chunk was way above the norm."
Trump took credit for Balderson's narrowing lead, tweeting that the campaign took "a big turn for the better" after he rallied in the district a few days before voting. But his appearances could also galvanise Democrats to turn out in force.
Lanhee Chen, the policy director for the Romney-Ryan presidential campaign, said: "It depends entirely where you're located. If you're in the rust belt or Michigan – if you're John James [a Michigan candidate endorsed by Trump], for example – it could be very positive. If you're in southern California, it's a different story. It's a function of geography."
Chen, a research fellow at the Hoover Institution in Palo Alto, California, believes the November election is not a foregone conclusion. "As long the economy remains strong, I think Republicans are going to over-perform expectations," he said. "A lot of people are counting Republicans out too early. There's a lot of time between now and November."
Others, however, fear the worst, suggesting that Trump's constant barrage of controversies and distractions could alienate swing voters and help Democrats in battleground districts. Frank Luntz, a Republican consultant and pollster, told the Associated Press: "This is political malpractice. You can't find me a time in modern times when the economy was this strong and the governing party was headed toward a potential political disaster like this."