Former White House aide and reality TV star Omarosa Manigault Newman claims she has heard a tape of Donald Trump using the N-word and other racial epithets during filming for The Apprentice.
In her book, Unhinged, a copy of which was first obtained by the Guardian ahead of its publication next week, Manigault Newman insisted that tapes did exist, but did not say she heard them, or that she had heard Trump use the word herself.
Speaking with Chuck Todd on NBC's Meet the Press on Sunday, however, Manigault Newman, who, as "assistant to the president", was once the most prominent African American in the White House, claimed she had been played the recording since the book went to print.
"I've heard his voice," Manigault Newman said. "Once I heard it for myself it confirmed what I feared the most, that Donald Trump is a con and has been masquerading as someone who is actually open to engaging with diverse communities. But when he talks that way, the way he does on this tape, it confirms that he is truly a racist."
Pressed on why she had not heard the tape before publishing her book, the author claimed its owner is "afraid because of the forces working to stop it coming out" while also regretting that "people are probably trying to leverage it for an October surprise" ahead of the November midterm elections.
She confirmed that Trump never said the N-word in her presence, though she said it was possible he used the racial slur to describe her "because Donald Trump talks about everyone behind their backs".
On Sunday, Manigault Newman released an audio recording, aired on Meet the Press, which she claimed she made in December 2017 when White House chief of staff John Kelly called her into the Situation Room to fire her.
The recording, if established to be genuine, could be treated as a breach of White House security.
"The very idea a staff member would sneak a recording device into the White House Situation Room, shows a blatant disregard for our national security – and then to brag about it on national television further proves the lack of character and integrity of this disgruntled former White House employee," White House press secretary Sarah Sanders said in a statement.
Manigault Newman defended her action earlier in the day, saying she had recorded the exchange, along with an undisclosed number of others before her departure, because she was trying to "protect" herself.
"I protected myself because this is a White House where everybody lies. The president lies to the American people. Sarah Huckabee stands in front of the country and lies every single day. You have to have your own back because otherwise you'll look back and you'll see 17 knives in your back."
Trump called Manigault Newman "a lowlife" on Saturday, in his first public response to her book. Sanders has described it as "riddled with lies and false accusations".
White House aide Kellyanne Conway told ABC's This Week on Sunday that the first time she heard her former colleague suggest "those awful things" about Trump's language was in the book.
"I think that Omarosa unfortunately has undercut her own credibility," Conway said, saying the author had previously given "a glowing appraisal of Donald Trump".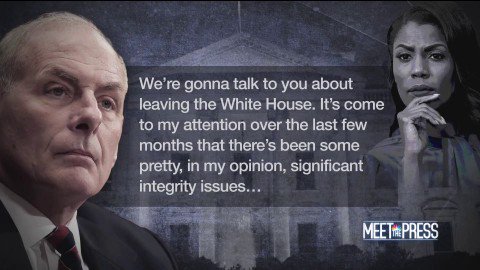 On NBC, Todd reminded her that in December 2016 she had written: "I am living the American Dream because of Donald Trump … it's very hard to make the argument that Donald Trump doesn't like black people and black women."
Soon after making that statement, she entered the White House as one of Trump's longest-serving aides, and as liaison with African-American groups.
Todd pointed out even after a number of incidents that drew attention to Trump's insensitivity to racial issues, she still defended her longtime boss while working at the White House.
"Being used by Donald Trump for so long, I was like the frog in hot water. You don't know till it starts bubbling and bubbling," she responded, calling her dramatic reversal the gift of hindsight.
"I was complicit and for that I regret," the former Apprentice contestant said.
In one of the purported recordings of Kelly, a man's voice can be heard saying Manigault Newman faced "integrity issues" of a "very serious" nature, but if her exit was "a friendly departure" she would be able to "go on without any type of difficulty in the future relative to your reputation".
Manigault Newman claimed she now regards the venue was chosen to impart a message. "They take me into the Situation Room, the doors are locked. They tell me I can't leave. And they start to threaten me, put fear in me, to put me under duress."
That phrasing, she now claims, constituted a "very obvious" threat that justifies her secretly recording the meeting.
Soon after she was fired, The Washington Post reported, Manigault Newman was offered a $15,000-a-month job with the Trump's campaign. The offer came with a binding nondisclosure agreement containing a "No Disparagement" clause that demanded she "not to demean or disparage publicly, in any form or through any medium, the Campaign, Mr. Trump, Mr. Pence…"
Manigault Newman says she understood the offer was not for a real job.
"They didn't really care if I showed up. In fact, there are several former employees from the White House who actually signed this agreement, who are all being paid $15,000 for their silence."
Todd asked her if she truly believed people are being bought off.
Absolutely, Manigault Newman said. "The campaign, the RNC, and America First, which is why Sean Spicer was describing Donald Trump as a 'unicorn jumping over rainbows' – because he signed this same agreement."
In another claim, Manigault Newman said she had seen the president eat a note handed to him in the Oval Office by Trump lawyer Michael Cohen to prevent presidential archivists getting it.
Cohen swiftly rubbished her recollection on Twitter.