CHAPEL HILL, N.C. ― Seven people were arrested at a demonstration held Saturday at the University of North Carolina, Chapel Hill site where a Confederate monument was toppled earlier this week.
The charges included assault, destruction of property, inciting a riot and resisting an officer. UNC Chancellor Carol Folt said the people arrested are not affiliated with the university, but did not provide any additional information about the arrestees.
After the university sent a warning to the campus Friday afternoon about a "possible rally," a small group of demonstrators with Confederate flags showed up at around 10 a.m. Saturday to the place where the statue known as Silent Sam formerly stood.
Only a handful of demonstrators holding Confederate flags remained on campus by noon, as the number of those in favor of the statue's removal swelled. Police had to intervene several times as demonstrators from both sides clashed and got into physical altercations.
The monument, erected in 1913 to commemorate UNC students who fought for the Confederacy during the Civil War, was tied up and brought down Monday night. Many saw the statue as a symbol of Jim Crow-era white supremacy.
Police have issued three warrants in connection with the monument's toppling. Folt said the incident remains under investigation, and it's unclear whether the statue will be reinstalled within 90 days, as a 2015 state law stipulates.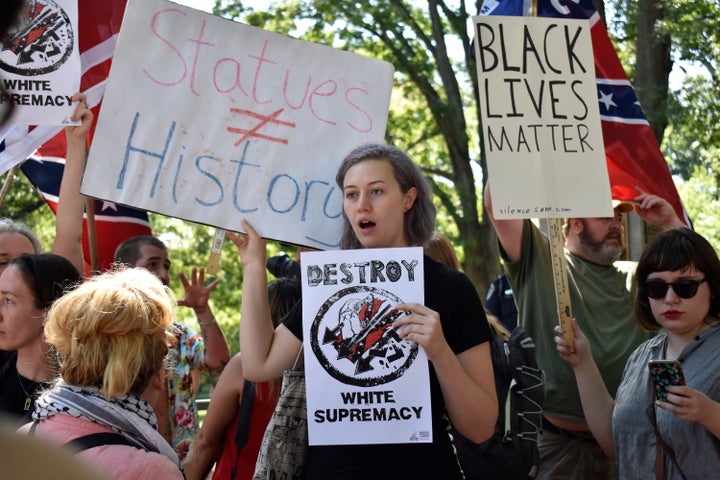 Since Monday, members of the university's board of trustees and the UNC system's board of governors have expressed a range of opinions on the statue — some called for its restoration while others raised public safety concerns.
After Saturday's demonstration, Folt defended the idea of relocating the statue, even though state law prevents her from doing so.
"I would find a better location, a safe secure location for the monument that would allows us to talk about it, learn from it and deal with it in a respectful appropriate way," she said. "And if I could do that, that is what I still believe is necessary."
More than 35 demonstrations over the monument have taken place over the last few years, Folt said.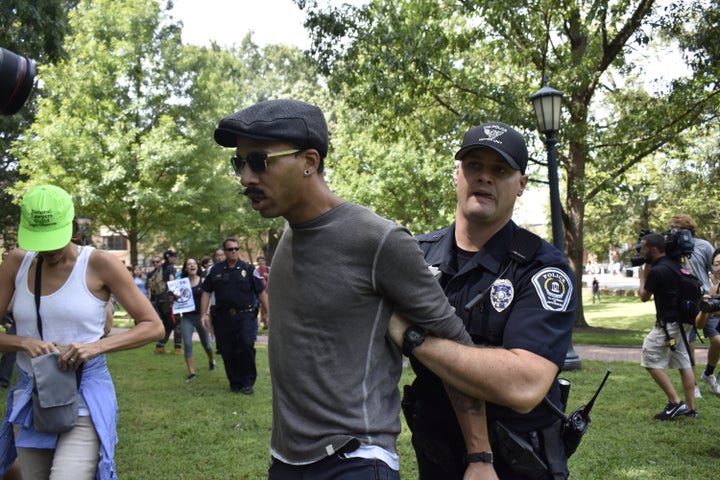 On Saturday, Chapel Hill police partially closed down the street in front of the lawn where the rally took place. Local law enforcement agencies called in state troopers, and some officers donned riot gear.
A man who identified himself as Paul Kin was holding up a Confederate flag when a counterprotester who was later arrested snatched it from him and stomped on it several times.
A former student at the university who lives in nearby Hillsborough, Kin said the toppling of the statue spurred him to show up and voice his support for the so-called Neo-Confederate movement, a conservative ideology that portrays the Confederacy in a positive light.
Kin spoke in favor of segregation, saying the movement he supports "rejects the idea that whites and blacks should be merged together."
Graduate student Eleanor Griggs said she felt it was her responsibility to oppose the protesters.
"I teach students," Griggs said. "I don't want them to have to feel threatened on their campus by people who are coming here holding Confederate flags that bring to mind all of the sort of legacy of the Confederacy and how much it's still been harmful in the South today."
Another gathering organized by a different conservative group to remember the fallen statue is scheduled at UNC's campus Thursday evening.
"I'm concerned," Griggs said. "We're going to see more and more people use this statue as a rallying point, or use the toppling of this statue as a rallying point, but I am feeling very hopeful that this many people came out to say that 'no, this is not acceptable to us, this is not welcome here.'"