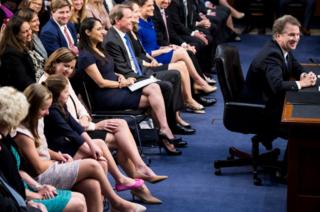 The confirmation hearing for President Donald Trump's Supreme Court nominee has descended into "mob rule", a Republican senator said.
John Cornyn of Texas spoke out as Democrats demanded an adjournment and two dozen protesters were dragged out of the room in chaotic scenes.
Brett Kavanaugh faces four days before the Senate Judiciary Committee.
If approved, he would be expected to tilt the court's balance to the right.
Mr Kavanaugh, 53, entered the committee rooms on Tuesday, and smiled to cameras as he took his seat.
But minutes later, the hearing room in Washington descended into angry shouts, from both members of the public and lawmakers alike.
The Trump administration has angered Democrats by refusing to release thousands of documents relating to Mr Kavanaugh's work for President George W Bush.
The White House has cited "constitutional privilege".
Senator Cory Booker appealed to Judiciary Committee Chairman Chuck Grassley's "sense of decency and integrity" but the Iowa Republican angrily refused to delay the process.
As protesters continued to be arrested, Texas Republican John Cornyn called this "the first confirmation hearing for a Supreme Court justice I've seen basically according to mob rule".
Mr Grassley bridled at the allegation that he had lost control of the hearing, and accused Democrats of tacitly encouraging the disruption.
He also threatened to continue hearings into the weekend, if delays continued.
Demonstrators against the appointment were heard shouting in an attempt to disrupt the hearing. Some were escorted out by security.
The protesters shouted out that Mr Kavanaugh would allow President Trump to pardon himself. Others claimed he would allow people with pre-existing medical conditions to be stripped of medical coverage.
Many Democrats strongly oppose Mr Trump's choice as they fear a more socially conservative approach to abortion, gay rights and gun control.
Senators on the committee were also due to hear from witnesses for and against the nominee.
Why is the nomination contentious?
The nine-justice court has until now been balanced between conservatives and liberals, with Anthony Kennedy considered the "swing vote". He retired in July.
Mr Kavanaugh is a conservative and Democrats say he could erode abortion rights, which are enshrined in the 1973 Roe v. Wade ruling, is opposed to gay rights and is pro-gun.
They are also concerned about his belief that a sitting president should be immune from prosecution.
The Supreme Court might have to rule on the issue should Special Counsel Robert Mueller decide that Mr Trump may have violated campaign finance laws.
The campaign finance issue emerged as part of Mr Mueller's investigation into allegations of collusion between the Trump election campaign and Russia. The president's lawyers have vowed to fight any subpoena request all the way to the highest court.
Democrats are insisting on seeing 27,000 documents relating to Mr Kavanaugh's time as part of the legal team serving President George W Bush.
Democrats – currently in the minority in the House and the Senate – also dislike his opposition to the Affordable Care Act – Obamacare – as a US Court of Appeals judge.
"They have to turn the volume up to 11, and try to paint you as one of the four horseman of the apocalypse," said Senator Orrin Hatch about protesters.
"Anyone who actually knows you knows that that's ridiculous."
What do Republicans say?
On the release of documents, Republicans say Democrats have more than enough information to make their judgement – and more than 120,000 documents were made available relating to the nominee's time in the Bush White House.
Senate Republican leader Mitch McConnell tweeted his support on Friday.
Will Kavanaugh get through?
It is thought likely.
He faces more than three days before the Senate Judiciary Committee, including the senior Democrat Dianne Feinstein. More than 20 witnesses are being called.
Assuming he clears that hurdle, it will be up to the full Senate to decide. Republicans have a slim majority in the 100-seat upper house, and most have declared they will back him.
Not all Democrats have said they will oppose him and it is thought some could even support Mr Kavanaugh's nomination.
What is his background?
A resident of the wealthy Washington suburb of Chevy Chase, Mr Kavanaugh studied law at Yale.
He worked under special counsel Kenneth Starr in his investigation into President Bill Clinton's relationship with intern Monica Lewinsky in the 1990s.
Under George W Bush, he served as deputy White House counsel and, from 2003 to 2006, as Bush's staff secretary.
Mr Kavanaugh is likely to have been involved in a range of issues, including the so-called war on terrorism and discussions about how to deal with enemy combatants.
A Catholic, he has been a US Court of Appeals judge in Washington for the past 11 years.