At least two people have died after a massive storm brought destruction to the northern Philippines.
Typhoon Mangkhut ripped through the Philippines' main island of Luzon, and is now moving west towards China.
Almost all buildings in the city of Tuguegarao sustained some damage, a government official said, and communications were down in places.
More than four million people were in the path of the storm, which packed winds of 185km/h (115mph).
Thousands were evacuated amid warnings of 6m (20ft) storm surges.
In the first confirmed deaths, two rescuers were killed trying to help people trapped in a landslide.
There are unconfirmed reports of casualties in the coastal town of Aparri. The evacuation centre there is said to have been destroyed and phone networks are down.
The deadliest storm on record in the Philippines was Super Typhoon Haiyan in 2013, which killed more than 7,000.
What is the latest?
The typhoon made landfall at Baggao, in the north-east of the Philippines, at about 01:40 local time on Saturday (17:40 GMT on Friday).
After losing some of its wind speed over land, it was downgraded from a super typhoon and is now travelling with wind speeds equivalent to a category four hurricane.
The storm – known locally as Ompong – has a cloud diameter of about 900km and is heading west at about 30km/h.
The World Meteorological Organisation (WMO) billed the storm as the strongest tropical cyclone the world has faced so far this year.
The Philippine Red Cross shared footage of rising flood waters and winds ripping through towns on Saturday morning.
The typhoon is forecast to pass near Hong Kong on Sunday afternoon.
Authorities there have urged residents to stay indoors when the storm approaches. Weather experts say it may be the strongest tropical storm to hit the territory in decades.
In nearby Macau, shops have been boarded up and residents have been sticking tape on their windows.
The typhoon is expected to weaken into a tropical depression by Tuesday.
How prepared is the Philippines?
Authorities in the Philippines have said they were better prepared for the storm than in previous years.
Warnings have been issued in dozens of provinces. Travel by sea and air has been restricted.
Flights have been cancelled, schools shut and the army is on standby.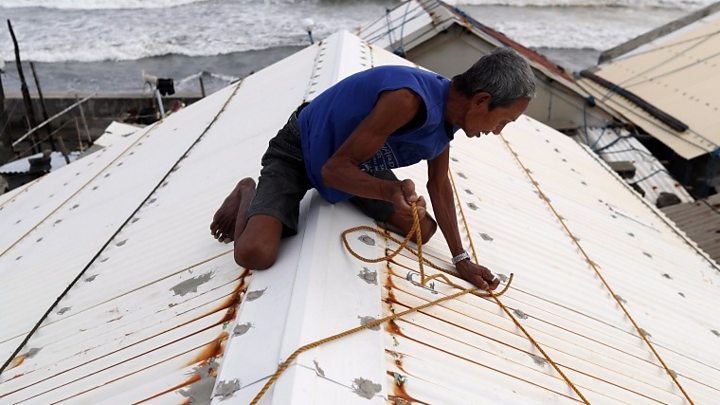 The authorities have also warned that heavy rains could trigger landslides and flash floods.
"We are really frightened," Delaila Pasion, who had fled her home, told AFP news agency. "They say it is so strong, we were too scared to remain."
"During previous monsoon rains, half of our house was destroyed so I wanted to take my grandchildren to safety," she told journalists.
The Philippines is routinely hit during the typhoon season.
In China, where the storm is predicted to hit late on Sunday or early on Monday, the authorities have raised storm alerts to "yellow", which is the second level on the four-tier warning system.
High-speed rail services have been cancelled in parts of the south, local media report.
Hong Kong battens down
By Robin Brant, BBC News China correspondent
Tape has been stuck to the windows; ominous Xs can be seen on the inside of homes and offices, and some bamboo scaffolding appears to have been taken down or secured as a precaution.
Passengers planning to fly out of Hong Kong's international airport on Sunday have been warned to expect "severe disruption".
Officials have asked people to stay indoors and – to the few who may be thinking about it – not to go out surfing or storm chasing.
This is a place used to preparing for approaching storms but they know this one is big.
Mangkhut may be classed as a super typhoon, again, by the time it passes, or hits, Hong Kong at some time on Sunday.
At its current rate, forecasters say it could be the strongest typhoon they've seen since they started making records in the 1940s.
Is global warming to blame?
The relationship between climate change and hurricanes is a complex one.
Warmer seas power hurricanes. So as the temperature of ocean water goes up, we might expect the intensity of hurricanes to increase in future.
A hotter atmosphere can also hold more water, so this should allow hurricanes to dump more water on affected areas.
But there are so many factors that contribute to these rare events, it has been difficult to tease out clear trends from the data.
---
How have you been affected by the typhoon? Email haveyoursay@bbc.co.uk.
Please include a contact number if you are willing to speak to a BBC journalist. You can also contact us in the following ways: