The US secretary of state, Mike Pompeo, has hinted that Rod Rosenstein could be in jeopardy, after reports on Friday said the deputy attorney general discussed wearing a wire to record conversations with Donald Trump and the possibility of invoking the 25th amendment to remove the president.
In excerpts of an interview with Fox News Sunday, Pompeo said: "If you can't be on the team, if you're not supporting this mission, then maybe you just ought to find something else to do."
Asked by the host Chris Wallace if Rosenstein's reported behaviour would constitute "being on the team", Pompeo said: "Not remotely."
Rosenstein oversees the special counsel Robert Mueller, who is investigating Russian election interference, links between Trump aides and Moscow and potential obstruction of justice by the president.
The deputy attorney general's remarks were reported by the New York Times and confirmed by other outlets.
Speculation that Trump might fire Rosenstein, as a way to neutralise Mueller, increased to fever pitch. Such a move from the president, which would carry strong echoes of the Watergate affair which brought down Richard Nixon, would likely push the US to the brink of a constitutional crisis.
The Times story contained a suggestion Rosenstein had been speaking sarcastically when he suggested wearing a wire. In a statement, the deputy attorney general called the story "inaccurate and factually incorrect" and said sources behind it were "advancing their own personal agenda".
"But let me be clear about this," he said. "Based on my personal dealings with the president, there is no basis to invoke the 25th amendment."
The 25th amendment provides for the removal of a president deemed unfit for office. It was mentioned in an anonymous editorial earlier this month, also published by the Times.
The author, a mystery "senior official" in the Trump administration, said the 25th amendment had been discussed but as "no one wanted to precipitate a constitutional crisis", a policy of containment of Trump had been pursued instead by likeminded figures.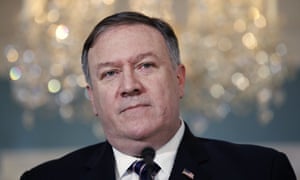 That picture chimed with accounts in Fear, a book by the Watergate reporter Bob Woodward, of papers being removed from Trump's desk and policy demands slow-pedalled.
After reportedly going to the White House on Friday, Rosenstein issued a second carefully worded statement, saying he "never pursued or authorized recording the president and any suggestion that I have ever advocated for the removal of the president is absolutely false".
Pompeo's remarks to Fox were released after Trump told a rally in Springfield, Missouri on Friday night he would act to rid the Department of Justice and the FBI of "a lingering stench" of disloyalty.
Also on Friday night, the Fox News hosts Laura Ingraham, Jeanine Pirro and Gregg Jarrett advocated firing Rosenstein. However Sean Hannity, who has perhaps even more influence with the president than Ingraham or Pirro, said Trump should not do that.
In what he called "a message for the president", Hannity said: "Under zero circumstances should the president fire anybody … I have multiple sources confirming this … it is all a set-up."
Some analysts had suggested the Times story might have been planted by Trump allies seeking to justify a move against Rosenstein. The authors backed up their work.
In his interview Pompeo, formerly the CIA director, said he had "told it to junior folks at the CIA, and the state department: we need everyone who's engaged in helping achieve President Trump's mission. And I hope that everyone in every agency, DoJ, FBI, state department, is on that mission".