Hurricane Michael has been upgraded to an "extremely dangerous" category four storm, hours before it is due to make landfall in Florida.
The storm has sustained winds of 140mph (220km/h) and is due to make landfall at about midday (16:00 GMT).
More than 370,000 people in Florida have been ordered to evacuate and move to higher ground.
At least 13 people reportedly died in Central America over the weekend as a result of storm rains and floods.
Florida has declared a state of emergency, as have Alabama and Georgia.
What are the latest developments?
In its latest bulletin, the Miami-based National Hurricane Center (NHC) said Michael had become "an extremely dangerous" hurricane.
It warned of a life-threatening storm surge, hurricane force winds and heavy rainfall along the north-eastern Gulf coast.
Michael, it added, could see some additional strengthening before it made landfall in the Florida Panhandle – a strip of land bordering the Gulf of Mexico – or the Big Bend area to its east.
At 06:00 local time on Wednesday, the eye of Michael was about 105 miles south-west of Panama City, Florida.
The NHC warns that some regions of Florida may experience storm surges of up to 13ft (4m).
Michael is currently moving northwards at 13mph.
On the Saffir-Simpson hurricane scale, category four includes winds of up to 156mph with possible severe damage to even well-built homes and trees being felled.
"Weakening is expected after landfall as Michael moves across the south-eastern United States," the NHC added.
Florida Governor Rick Scott called Michael "monstrous storm" and urged residents to listen to officials.
Despite the warnings, local officials believe a far smaller number of people have in fact moved away.
Schools and state offices in the area are to remain shut this week.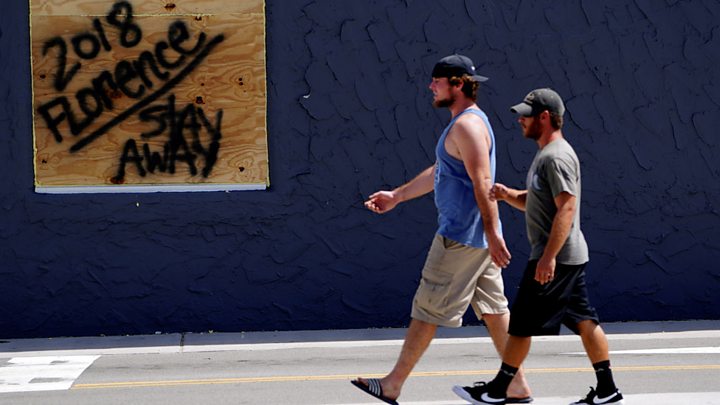 On Tuesday, Gov Scott said he had activated 2,500 Florida National Guard troops.
Heavy rains are forecast for the Carolinas, which were drenched by Hurricane Florence last month.
North Carolina Governor Roy Cooper told residents: "I know people are fatigued from Florence, but don't let this storm catch you with your guard down."
More than 300 miles of coastline are currently under threat, the National Weather Service has said.
Forecasters in Alabama warned of possible tornados.
President Donald Trump told reporters on Tuesday: "We are very well prepared for the incoming hurricane."
Residents face frightening ordeal
By BBC's Gary O'Donoghue in Florida
Adrian Mahangos hopes he is one of the lucky ones.
Sitting outside his home, reading a magazine, less than 100 yards from the water's edge in Wynnehaven, he knows Hurricane Michael is now due to make landfall 50 or 60 miles to his east.
Mr Mahangos is not going anywhere.
His house is 11ft above sea level and if the 4ft surge predicted for this part of the coast goes no higher, then he's confident his newly built home will survive.
Just an hour along the coast, it's different.
The aptly named Lullwater Beach, just west of Panama City Beach, is quiet at the moment, but this whole stretch is looking at a possible surge of up to 13ft.
A man in the distance is gathering sand from the beach while it's still light and pouring it into trash bags – making do with what's at hand to protect from the water.
Local officials are warning that not nearly enough people have evacuated as they would wish.
Florida is used to storms but the Panhandle, with its low-lying coastal strip and scattered communities, hasn't seen anything this strong for more than a dozen years.
Those that remain will be facing a frightening ordeal.
Where has Hurricane Michael hit so far?
According to the Associated Press, six people were killed in Honduras, four in Nicaragua and three in El Salvador.
Images on social media showed evacuating families wading through water to get to safety.
Parts of western Cuba, which was hit by the storm on Monday, were forecast to receive up to a foot of rain.
Offshore oil platforms in the Gulf of Mexico have evacuated workers, halting nearly a fifth of daily production.
Five drilling rigs have been moved out of the storm's path, according to the US Bureau of Safety and Environmental Enforcement.
---
Are you in the affected region? What preparations have you made? If it is safe to do so, please get in touch. Email haveyoursay@bbc.co.uk.
Please include a contact number if you are willing to speak to a BBC journalist. You can also contact us in the following ways: