A strong economy with joblessness at its lowest rate for nearly half a century. A new trade deal with Canada and Mexico. Hopes of peace in the Korean peninsula. No major terrorist attacks on the homeland. A week that began with cheers at the White House for a new supreme court justice and ended with the release of an American pastor from jail in Turkey.
An alien who landed in Washington today might be forgiven for assuming the president is a highly successful leader, wildly popular with the public. But then someone would have to patiently explain, "Let me tell you about Donald Trump …"
Opponents accuse Trump of trading in misogyny, racism, mendacity, crassness and chaos, as painfully documented by authors Michael Wolff and Bob Woodward. They also contend that the policy wins listed above are hollow. An economy built on Barack Obama's foundations, tax cuts that favour the rich, mounting national debt; a supreme court nominee rammed through in a show of contempt for women; a love-in with North Korea's dictator; self-destructive trade wars and a surrender of global leadership.
Nevertheless, like Ronald Reagan or Margaret Thatcher, Trump has already passed the test of making himself consequential and handing his conservative supporters a narrative. Liberal-baiting cheerleaders include White House counsel Kellyanne Conway, press secretary Sarah Sanders and former House speaker Newt Gingrich, the author of books such as Understanding Trump and Trump's America: The Truth about Our Nation's Great Comeback.
"I think by any reasonable standard it's been amazing," Gingrich told the Guardian, pointing to bigger economic growth, bigger deregulation and more federal court appointments than he said anyone thought possible two years ago.
"He now dominates his party more decisively than anyone in modern times on the Republican side, which would not have seemed plausible two years ago. He's got to fight a very hard-fought midterm election but he has a lot of pluses on his side right now."
In July, even Gingrich spoke out against Trump's performance in Helsinki, when he appeared to take Russian leader Vladimir Putin's word about election interference at the expense of his own intelligence agencies.
But the Republican elder continued, "Trump is an 80% historic figure and 20% the product of reality TV. That's who he is; he's not going to change.
"But he is stunningly effective. You have to say to yourself, 'He may not be perfect but boy, does he get a lot done.' At the rate he's currently going, he will be one of the most consequential American presidents. He will certainly be in a league with people like Andrew Jackson or FDR [Franklin Delano Roosevelt]."
Gingrich is confident Trump will win again in 2020.
"Unless something terrible happens to the economy, he'll be re-elected. Anybody who watched him take apart 16 Republicans and Hillary Clinton and the elite media should ask themselves, 'What will Trump be like as candidate when he has all the advantages of the presidency and he only has to beat one Democrat?' I suspect he will be pretty impressive."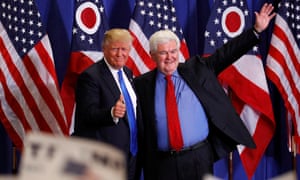 The former speaker blames Trump's deep, visceral unpopularity on the media and the left.
"If you look at the level of dishonesty in the New York Times or CNN, he's virtually compelled. He's in a war with them. They are the other team. They don't even pretend to be neutral. The day after the inaugural there was a mass rally of leftwingers in which Madonna said she dreams of the White House being bombed."
Madonna later clarified that her remark at the women's march about having "thought an awful lot about blowing up the White House" was a metaphor.
Gingrich concluded: "Trump is the natural articulator of the conservative part of American society and he arouses hostility from the left but that's also why he has such strong support on the right. We have a president willing to actually stand up for our values. That's why getting [Judge Brett] Kavanaugh approved was so important. Trump is reshaping the courts at remarkable rates and he's doing so from the standpoint of conservatives who believe in the American constitution."
'You can't say you love Trump'
Measured by the laws of the Trump universe, his presidency is indeed a success, reinforced daily by praise singers on conservative media and rooms full of applause and "promises made, promises kept" banners. Anthony Scaramucci, who spent an ill-fated 11 days at the White House last year as communications director, has written a book lionising the president.
"Unfortunately the American press hates this guy so much that he could resurrect people and it's not going to be enough for them," said Scaramucci, speaking by phone on Friday from Detroit, where he was about to preach the Trump gospel to university students. "If he was Barack Obama or any other person other than Donald Trump they would have to capitulate and say this guy's done an unbelievable job.
"He's going to have transformed the supreme court. He will have right-sized the trade deals to make them fairer for the American worker. He will have ended the nonsense at the border. He will have created peace in the denuclearisation of the Korean peninsula. He will have right-sized the trade relationship with China and ended the Iranian theocracy. I don't know, I guess he sucks! If he was anybody else he'd have a 75% approval rating right now."
Trump's job rating stands at 47% approve, 51% disapprove, according to SurveyMonkey – his best standing since the earliest days of his administration. Scaramucci believes the mood on the ground is quietly shifting in the president's favour despite the attached social stigma.
"I'm a sales guy," he said, "I returned to my company and I've travelled the entire country over the last 12 months, and what I can tell you is that the whisper is up.
"What's the whisper? 'Hey, I got to tell you something, I am actually a big time Trump supporter, please don't tell anybody because I'm not allowed to say that in my country club.' 'Hey, excuse me, you know what, I work in Hollywood, I'm telling people I'm a diehard liberal because I've got to get work here, but I actually love Trump. Can you promise me not to tell anybody?' 'Oh hey, I'm a venture capitalist up here in San Francisco, I actually love Trump but you can't say you love Trump, you'll be ostrasised from the social club.' So what I love about the liberals is the collective speak there."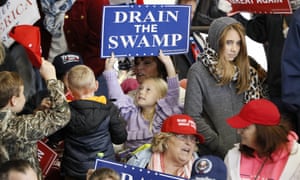 After countless headlines declaring "Trump's worst week ever", there have been recent signs of a lift in the president's spirits. His rallies ahead of next month's midterm elections have switched emphasis from angry rants about special counsel Robert Mueller's "rigged witch hunt" over alleged Russian collusion to boasts about his perceived triumphs.
"America is winning again like never before," Trump told a 9,000-strong crowd in Council Bluffs, Iowa, this week.
He has become unusually accessible to the media. The victory parade reached a wacky crescendo this week when rapper Kanye West hugged Trump in the Oval Office and said his "Make America great again" hat made him "feel like Superman".
And yet, a reality check: the crude attacks on the media and others, the chants of "Lock her up!" and the populist red meat have not gone way. This week, United Nations ambassador Nikki Haley became the latest member of the administration to quit. Mueller's investigation races on. And opinion polls suggest that Democrats, fuelled by anti-Trump fervour, will win a majority in the House of Representatives, enabling them to bombard the White House with investigations and hearings.
Frank Luntz, a Republican pollster and consultant, said: "Never has a party had so much to run on and such difficult prospects as the Republican party in 2018. That's because Trump has personalised everything to himself."
It remains clear from one glance at progressive online messaging, newspaper opinion columns, Democratic campaign speeches, and late-night TV comedians that vast numbers of people regard Trump – who was accused of sexual harassment by more than a dozen women and who condemned marching white nationalists less harshly than protesting African American football players – as the most unpresidential president of their lifetimes.
Henry Olsen, a senior fellow at the Ethics and Public Policy Center think tank and author of The Working Class Republican: Ronald Reagan and the Return of Blue-Collar Conservatism, said: "It's very clear that what Trump represents to Democrats and a significant number of other non-Republicans trumps any of his attributes. Many Americans view him as racist, misogynistic, vulgar and incompetent. They don't care what he does because they regard who he is as beyond the pale."
But what he has done – including the separation of families at the Mexican border and a seemingly callous response to a hurricane in Puerto Rico that killed nearly 3,000 people – is also cause for discontent. John Hudak, a senior fellow in governance studies at the Brookings Institution, said: "It's a combination of substantial disagreements on the policy and disdain for the style. What makes it worse is that he doubles down on both."
Political opponents have faced an ongoing challenge, however, in how to combat a demagogic figure armed with Twitter. Hudak added: "I don't think the Democrats have done an effective job on building a strategy that hurts the president but they have been very good at getting out of the way and letting him get on with his self-inflicted wounds."
'He has sacrificed the ability to grow'
Trump has focused on animating his core support rather than building bridges. The calculation, it appears, is that he can win in 2020 with a minority of the popular vote, just as he did in 2016.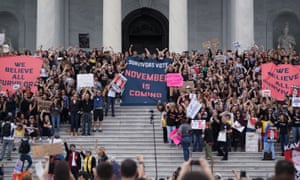 Congressman Brendan Boyle, a Democrat representing Pennsylvania's 13th district, observed: "For all the focus on the loyalty of Trump's base, it shows you the real penalty he is paying for his bizarre behaviour and outlandish rhetoric. With this economy and without a terrorist attack, a normal president would have a higher approval rating and more popularity. He does have the loyalty of that base but he has sacrificed the ability to grow to 50% and beyond."
As the midterms approach with control of Congress at stake, Boyle is finding a very different reaction from the "whisper" heard by Scaramucci.
"I've never seen these numbers we're seeing among well educated, white, particularly women voters flocking from the GOP to the Democratic party. In my area around suburban Philadelphia it might be a wipeout for the first time ever. Without Trump as president, that would not be happening."
As voters worry about threats to healthcare, Republicans have been struggling to capitalise on the economy as a talking point. Obama bequeathed Trump a 4.7% unemployment rate (it is now 3.7%) and 75 consecutive months of job growth.
"That trend continued and Donald Trump hasn't managed to screw it up," Boyle said.
"But given the positive economic news, what will happen to his popularity when, as it always does in the business cycle, the economy inevitably slows down and contracts? That is a major warning sign for Trump. If his approval rating is at an almost historic low for a first-term president now, he should be worried about what happens when the economy slows."
Trump is fond of bragging at rallies that people will become so tired of winning that they can't take any more. Where some find the sweet smell of success, others detect smoke.
Sidney Blumenthal, a senior adviser to President Bill Clinton and biographer of Abraham Lincoln, said: "The man is the arsonist and the fireman. When he's the fireman, he claims he's achieved something. He's put out the fire."