Jeremy Corbyn has proposed changes to Labour's complaints system to speed up the expulsion of members over anti-Semitism.
He told his frontbench team he wanted to "confront this poison", but the process sometimes took too long.
A statement from shadow cabinet said they supported the proposals, but still backed "independent oversight" as well.
Labour said eight party members were expelled in the first six months of 2019 over anti-Semitism allegations.
Some 625 complaints were also received in that same period.
Meanwhile, Labour peers have decided against voting on a no-confidence motion in Mr Corbyn over the issue.
Two options
The developments come as the party launched "education materials" – including a leaflet and webpage– to help members confront anti-Semitism.
Mr Corbyn – who is addressing MPs at a meeting of the Parliamentary Labour Party – said earlier that while only a "small number" of members held anti-Semitic views, a larger number did not recognise stereotypes and conspiracy theories.
The current process for dealing with anti-Semitism allegations sees a disciplinary panel meet to examine claims. If they think there is a case against a member, they refer it to Labour's National Constitutional Committee, which then has the power to suspend or expel individuals.
Critics, including deputy leader Tom Watson, have said the process takes too long and there should be an option to automatically expel people.
A number of members have also called for the process to be made independent from the party.
Earlier this month, the BBC's Panorama revealed claims from a number of former party officials that some of Mr Corbyn's closest allies tried to interfere in disciplinary processes involving allegations of anti-Semitism.
Labour has rejected claims of interference in its disciplinary processes and described the Panorama programme as "seriously inaccurate" and "politically one-sided".
'Independent oversight'
The options Mr Corbyn presented to shadow cabinet were:
Give the National Executive Committee's anti-Semitism panels the power in the most serious cases to suspend or expel members, with appeals going to the NCC
Refer the most serious cases to a special NEC panel, including Labour's general secretary Jennie Formby, which would have the power to expel a member
He told shadow cabinet he favoured the second option and it would allow for more rapid expulsion in the most serious of cases.
The shadow cabinet released a statement after the meeting, saying they backed his plan, but the issue of independence had not gone away – although there was a lack of clarification on what this would entail.
"As part of tackling anti-Semitism, the shadow cabinet has today supported the proposal for summary exclusion outlined by the Labour leader, which he will put to the National Executive Committee," they said.
"The shadow cabinet also supports the proposal to introduce independent oversight of our processes, and will continue to seek to engage with Jewish community organisations to build confidence."
The latest figures on anti-Semitism complaints
Between January and June 2019, Labour received 625 complaints about members relating to anti-Semitism, and a further 658 complaints about people who weren't in the party.
After six NEC meetings in the same period, the committee referred 97 members to the NCC over their cases, handed out 41 official warnings and a further 49 "reminders of conduct".
And over those six months, the NCC expelled eight people, gave out three extended suspensions, and issued four warnings.
Another 12 members left the party after being referred to the NCC, and one member's case was unproven.
A Labour spokesman said publishing the figures showed the party's "commitment to transparency in its efforts to root out bigotry and racism".
He added: "These figures provide a complete and accurate picture and demonstrate that we are taking decisive and robust action against anti-Semitism."
Earlier, Mr Corbyn wrote to members about the new education materials regarding anti-Semitism and said it would be the first in a series on "a number of specific forms of racism and bigotry".
He said the scale of the problem within Labour had been exaggerated by "some of the media", but the party was "not immune" from the problem of anti-Jewish hatred.
Lord Desai – a member of the party for 48 years – said it was "too late now [for] the leadership to start pontificating about what a terrible thing anti-Semitism is".
He told the BBC's Victoria Derbyshire programme he had "no confidence in the leadership", and was "very unhappy with the way the Labour Party is going".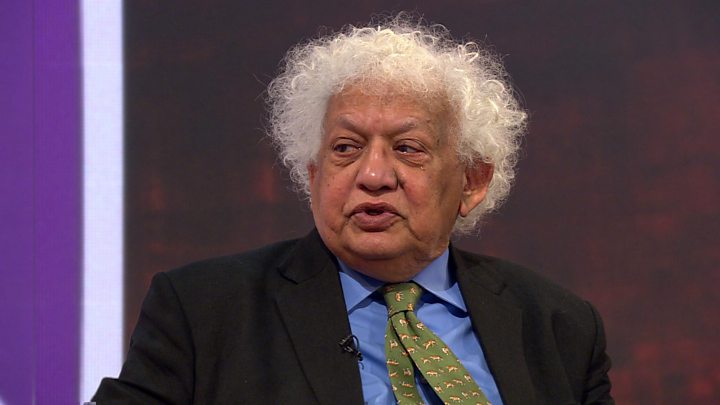 However, Labour peers as a whole decided on Monday not to pursue a no-confidence vote in Mr Corbyn – although they said the option "lies on the table".
In a statement, the peers said: "We continue to be dismayed and ashamed by the handling of the anti-Semitism crisis by our party leadership as there is no question that the number of cases has soared over the last four years.
"We will as a group continue to speak out against anti-Semitism and stand shoulder to shoulder with our Jewish colleagues and brave former staff members and with all those fighting injustice."
The peers have also given their full backing to Baroness Hayter, who was fired from her role as shadow Brexit minister after she compared the leadership' team's refusal to acknowledge criticism to "the last days of Hitler".